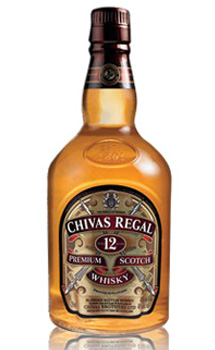 Chivas Regal is one of your most common brands of Scotch whisky. It is 40% alcohol and is priced around $20 for a 750 mL bottle.
It has a nice smell to it. It is not too strong and not too weak, though someone who is not accustomed to smelling the drink may at first be put off by it.
On the rocks, the taste waters down and becomes more bearable. This is not a very smooth drink. That is not to say that the drink is too strong to the point that it is unbearable, as whiskeys are supposed to be strong. Drinking it straight, though, probably would take some time to get used to. The taste is surprisingly not bad for the price. It has a nice taste to it: slightly sweet and not too much burn.
Overall, I have a favorable view of the drink, especially for the price. You can do a lot worse than Chivas Regal for low-priced Scotch. I approve of it, but do not expect to like it if this is your first time drinking hard liquor.