Bunkerville
has written a post entitled
Obama Seeks to Lift Ban on Controversial Cross-Border Trucking Program
. In this, he talks about the folly of free trade and how we need to keep these trucks out of the United States in order to protect domestic jobs. In a friendly dialogue, I would like to disagree with him and offer my own opinion about free trade.
The easiest response is that the "America First" mantra would set off a trade war. If we do not accept products from other countries, then what will other countries do in response? Simple, they'll close off their markets from American goods. So in the name of protecting jobs, you have destroyed jobs. But there is much more to the issue, I believe.
The next easiest issue would be competitiveness. Look, for example, at the American auto industry. For years it has been a source of complaint and ridicule. Imagine what would have happened if the Japanese and German automakers had not grown in market share in this country. Presumably, we would have the same poor quality and high price that American car companies had offered for the past few years. When Toyota and other companies began to grow, American car companies realized that they had to change. GM was too bogged down by union labor and so probably would have been better off going out of business, but Ford revamped their image, came out with stylish cars, and have really bounced back. Would this have happened without the Japanese putting pressure on Ford? It is highly doubtful. So the benefit to consumers is clear.
But what about the workers who, without protections, will see their jobs outsourced? There is always a cry for sympathy and brotherhood when we see jobs going to other countries. One of the oft used examples is how American manufacturing dominance is being lost to China and other growing countries. Well, I do not like doing this, but I have to say that it is just wrong.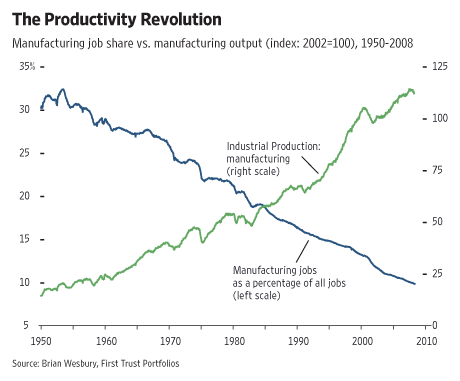 Source
What is really happening is that we are becoming much more efficient, so we do not need as many industrial jobs. The reason that industrial jobs are being lost is because we can produce more wealth per worker than we could before. Should we really bemoan the loss of high-intensity industrial jobs? I think not.
So what will these people do for jobs if we are losing all of these jobs to other countries? The simple answer lay in the fact that "production creates its own demand." Because other countries are producing more, that means they will be consuming more. A new job market then opens up for Americans. A loss of a job does not mean permanent unemployment.
America First is a short-sighted ideology. It makes American companies less competitive and holds us back from doing other jobs that increase our well-being. For instance, why make an exhaust pipe here if China can make an exhaust pipe and those workers instead do something else like increase our technological advancement (indirectly this is exactly what would happen). The best way to increase our future prosperity is to maximize our production right now. The only way to do that is to have people realize how much their labor is truly worth so that they will only produce what is most highly desired by consumers. The source of prosperity is production, not artificially inflated wages.